Welcome to MSO's Season-At-A-Glance
Select the concert series on the left to view all concerts in that series. 
Bravo Series
The Selby & Richard McRae Foundation presents MSO's Bravo Series – the best of beloved classics and major contemporary works, studded with a sterling lineup of acclaimed guest artists. Experience the brilliance of the five Bravo Series concerts in a grand setting.
---
BRAVO I – Sat 10/07/23 
Totally Tchaikovsky – Romantic Era gamut of emotion featuring his popular Swan Lake & more 
Thalia Mara Hall, 7:30 pm
This all-Tchaikovsky showcase features three of the composer's most popular works — Swan Lake, one of the most beloved ballets of all time; Symphony No. 6 "The Patheitique," his greatest and most captivating symphony; and March Slav his rousingly patriotic tour-deforce. Join us for an evening of masterful melody, intense emotion and the world-class talent of Mississippi Symphony Orchestra musicians. 
---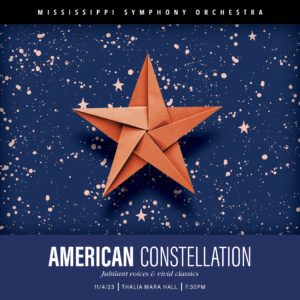 BRAVO II – Sat 11/04/23 
American Constellation – Jubilant voices & vivid classics featuring pianist Randy Klein & vocalist Aurelia Williams 
Thalia Mara Hall, 7:30pm
Gershwin's jazzy 1920s portrait of An American in Paris sets the tone for a program designed to express the full range of the American experience. Composer Randy Klein brings his distinctive style to vocal settings on four of Margaret Walker's greatest poems. Also on the program a reading of Alice Walker's poem "Remember," Jessie Montgomery's Black spiritual-based composition Source Code, and Copland's infectious Rodeo. 
(In partnership with Phillis Wheatley Poetry Festival, Jackson State University, and the Margaret Walker Center)
---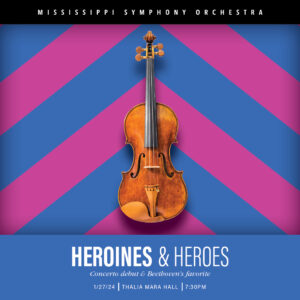 BRAVO III – Sat 01/27/24 
Heroines & Heroes – Concerto debut & Beethoven's favorite featuring Concertmaster Shellie Kemp
Thalia Mara Hall, 7:30pm
Rossini's upbeat Italian Girl in Algiers sets a happy stage for the premiere of Mississippi composer James Sclater's concerto celebrating Shellie Kemp's rise to MSO concertmaster — a contemporary work that also salutes their lifelong friendship and deep local roots. Beethoven's pivotal and celebrated Eroica — a thrill for the musicians and even the composer's own favorite — enhances and finishes the evening on a heroic high note. 
---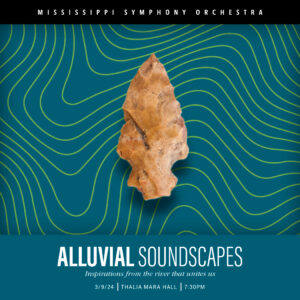 BRAVO IV – Sat 03/09/24 
Alluvial Soundscapes – The river that unites us — a tribute to the ancient Mississippian Culture. Featuring clarinetist Ken Graves. 
Thalia Mara Hall, 7:30pm
History meets symphony in composer James Lee III's Visions of Cahokia, inspired by the ancient capital of Mississippian Native American culture that flourished along the waterways of North America before European contact. Hear a spiritual nod to the mighty Mississippi in Duke Ellington's The River, and an impressionistic journey out to sea in Debussy's atmospheric La Mer, while Copland's gorgeously fluid Clarinet Concerto gets star treatment by MSO's own Ken Graves. 
---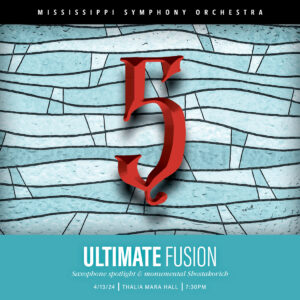 BRAVO V – Sat 04/13/24 
Ultimate Fusion – Saxophone spotlight & monumental Shostakovich — featuring Project Fusion Saxophone Quartet 
Thalia Mara Hall, 7:30pm
Award-winning Project Fusion, including founding member and University of Southern Mississippi professor Dannel Espinoza, shares the soulful colors and lively, distinctive style of Philip Glass's world-renowned Concerto for Saxophone Quartet and Orchestra. That's the spotlight center of an evening that opens with the picturesque sparkle of Anatoly Lyadov's The Enchanted Lake and closes with one of symphonic music's greatest monuments — Shostakovich's gripping and popular, Symphony No. 5. 
---
Pops Series
Our Pops concerts roll out the music hits you know and love with a full-orchestra flourish and a casual ambiance. Pops stands for popular. This series is three ideal opportunities for family time or a fun date. Two concerts at Thalia Mara Hall and one General Admission outdoor concert.
---

POPS I  –Sat 10/21/23 
Back to Back – The music of piano men Billy Joel & Elton John — returning by popular demand Jeans 'n Classics 
Thalia Mara Hall, 7:30 pm
Billy Joel and Elton John's 1994 Face to Face tours are long gone, but their music lives on in the Jeans 'n Classics road show, Back to Back. The unique fusion of MSO's symphonic prowess with crowd favorite Jeans 'n Classics — vocalist Jean Meilleur, pianist John Regan, full rock band and backup singers — delivers a brilliant lineup of unforgettable covers hit after hit, including Piano Man, My Life, Rocket Man, Circle of Life, and many more! 
---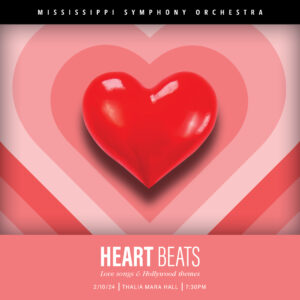 POPS II – Sat 02/10/24 
Heart Beats – Love songs & Hollywood themes — featuring pianist Scott Cuellar. 
Thalia Mara Hall, 7:30 pm
An evening devoted to love and the-music-you-love hits all the right romantic notes in a prelude to Valentine's weekend. Highlights include swoon-worthy movie music from Titanic, The Mission, and Somewhere in Time; love songs of the Beatles; love themes of the 007 franchise; plus guest pianist Scott Cuellar performing Gershwin's stellar Rhapsody in Blue and Mozart's unforgettable "Elvira Madigan Concerto." 
---
Pepsi Pops – A blast in the park & chart-topping hits. Featuring movie, Broadway, pops favorites & fireworks finale.
Old Trace Park on the Reservoir, 7:30 pm
Against the backdrop of a balmy sunset, a starry night sky and the gentle waves of the Rez, MSO treats listeners young, old and in-between to a lineup of favorites from stage, screen and the top of the charts. Bring the kids, bring the parents, bring a date, bring some friends, bring a picnic if you like — this outdoor charmer fits all. Count on the always-splendid fireworks at the end to unite the crowd with a feel-good exclamation point! 
Chamber Series
The intimacy of these four concerts* in smaller more congenial venues with excellent acoustics around metro Jackson is the key to their charm. The shared experience of beautiful music in a unique setting guarantees a memorable date night or evening with friends.
*Chamber Series concerts are General Admission with no assigned seating.
---

CHAMBER I  – Sat 09/09/23 
Beloved Baroque – Spirited concertos & brass highlights. Featuring Mimi Linehan & Richard Hudson, solo horns 
St. Andrew's Cathedral, 7:30 pm
St. Andrew's Cathedral and this delightful roundup of European works from the first half of the eighteenth century provide a perfect showcase for the MSO strings, woodwinds, and brass sections, respectively. MSO's Mimi Linehan and Richard Hudson shine in a virtuosic concerto for two horns. Savor this authentic Chamber music experience through the works of Vivaldi and Corelli of Italy, Telemann from Germany, and the Czech-born Zelenka. 
---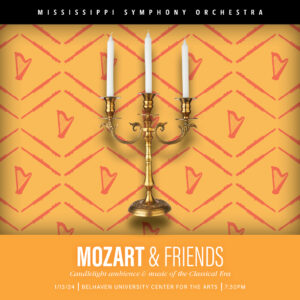 CHAMBER II  – Sat 01/13/24 
Mozart (and Friends) by Candlelight Ambience & music of the Classical Era — featuring flutist Amulet Strange & harpist Kristina Finch 
Belhaven University Center for the Arts, 7:30 pm
The charm of Mozart's delightful Concerto for Flute and Harp comes to life in the gifted hands of MSO's Amulet Strange and Kristina Finch as they share the spotlight on this annual evening of candlelit favorites by Mozart and his contemporaries. Also on the program, the glory of Mozart's earlier Symphony No. 24 meets its match in a brilliant symphony by Ignaz Pleyel and a robust overture and wind serenade by Josef Haydn. 
---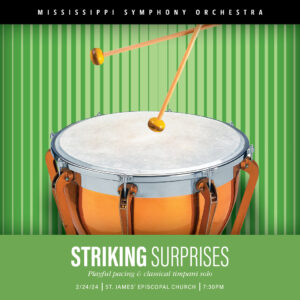 CHAMBER III – Sat 02/24/24 
Striking Surprises – Playful pacing & Classical timpani solo. Featuring timpanist Bud Berthold 
St. James' Episcopal Church, 7:30 pm
MSO soloist Bud Berthold commands a striking centerpiece for the evening in Družecky's bright and breezy, Classical Era Concerto for Six Timpani. Caroline Shaw's evocatively paced Entr'acte for Strings provides a wondrous and spiritual opener in natural soundscapes, and the whimsical dynamics of Haydn's Surprise symphony makes a stunning finish. 
---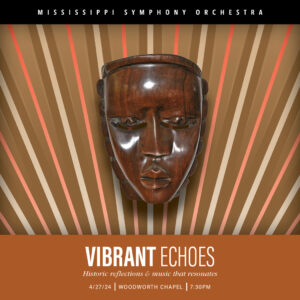 CHAMBER IV –Sat 04/27/23 
Vibrant Echoes – Historic reflections & music that resonates. Featuring MSO's Woodwind Quintet & String Quartet, plus pianist Stephen Sachs 
Tougaloo College's Woodworth Chapel, 7:30 pm
Sponsored by Lesly Gaynor Murray in memory of Stephen C. Edds
Valerie Coleman's now-famous Umoja for woodwind quintet and her Red Clay and Mississippi Delta open an evening of music that all seems to have been written for Tougaloo College's Woodworth Chapel. Works by Mississippi-born William Grant Still reflect roots and Harlem blues, while the jazz piano ebullience of James P. Johnson's Yamekraw is unleashed by piano soloist Stephen Sachs. The Native-American and African American infused melodies of Dvorak's American String Quartet are an enchanting close to our concert season. 
Symphony in the CommUNITY
These collaborative concerts celebrate the rich local talents of our shared community of music. The informal, free matinees present innovative combinations and unexpected wonders in repertoire and performance, plus offer a post-concert opportunity to chat with the artists, share insights and learn more.
---
Symphony in the CommUNITY I  – Sun. 10/29/23 – 3:00 pm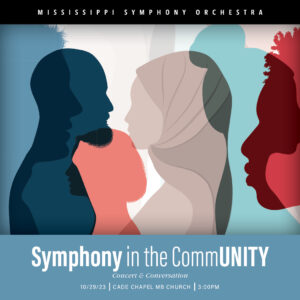 Concert & conversation — featuring 5th Child, Teneia Sanders, Cade Chapel Chorale & MSO String Quartet 
Cade Chapel Missionary Baptist Church — 1000 Ridgeway Street,  Jackson MS 
Hand in hand with Cade Chapel MB Church, MSO rejoices in the rich local talents of our shared community of music. This matinee of fresh combinations and unexpected wonders features 5th Child, Teneia Sanders, and Cade Chapel Chorale with MSO. Selections include Fela Sowande's African Suite, Jessie Montgomery's Strum and Mozart's lovely "Grand Partita." Post-concert conversation expounds on enlightening details and common bonds. 
---
Symphony in the CommUNITY II  – Sun. 4/21/24 – 3:00 pm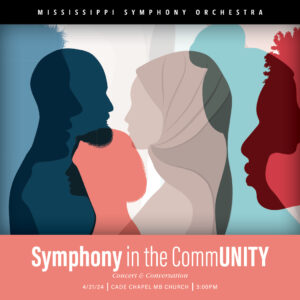 Concert & conversation — featuring Mississippi Valley State University Singers, pianist Tyler Kemp, poetry of Terrance Hayes & Cade Chapel Chorale 
Cade Chapel Missionary Baptist Church — 1000 Ridgeway Street,  Jackson MS
From the enduring classical roots of Saint-Georges, Coleridge-Taylor, and Tchaikovsky to the popular contemporary strains of Alexis Ffrench, this program's impressive lineup puts a fresh spin on spring. The Mississippi Valley State University Singers, pianist Tyler Kemp, and the poetry of Terrance Hayes fuse their talents to send our collective spirits into the stratosphere. Stay for the informal post-concert chat to share insights and learn more. 
Concerts outside the capital city area are often in
Brookhaven
Greenville
Poplarville
Vicksburg
and more!
Tickets for these concerts are offered through the presenting city/community.
Combined with the primary concerts of the Bravo, Chamber, and Pops series MSO reaches 75,000+ Mississippians annually.