There's a reason that Mississippi Symphony Orchestra's annual "Beloved Baroque" concert is the first one on the season's schedule each year, and it's not just because this tried and true people-pleaser in the stunning venue of St. Andrew's Cathedral is guaranteed to shake off summer doldrums for symphony lovers.
It's also because there's a ton of prep work that goes into this concert, getting the 17th-to-mid-18th century music ready for 21st century musicians to give it a go.
The ornamentation, a hallmark of Baroque music, is not actually in the music. "There was an assumption at the time, that performers in 1670 just understood what to do with this music. You didn't have to tell a violinist to add a trill," says MSO Music Director and Conductor Crafton Beck. "Maybe every one-to-ten notes has a change to it that's just not in the music." Hundreds of years down the road, performers no longer innately understand the outdated style. "It's like saying 'thou' instead of 'you.' People don't talk that way anymore."
So, those notations need to be added to the music — decisions made by Beck, concertmaster Shellie Kemp, and Baroque specialist and harpsichordist Shawn Leopard. "We've learned how to do it, and our orchestra's better at it," Beck says. "We have to put lots and lots of ornamentation in the music, and then somebody has to mark all those different parts." Plus, provide the tempo to the musicians.
"This repertoire is new to some of us," Beck adds. "We all know Beethoven's third symphony, but nobody knows the Corelli Concerto Grosso Op. 6, No. 11," which is just one of the lovely works we'll hear in the Sept. 9 concert at St. Andrew's.
All that's part of why this is always MSO's first concert out of the gate each season — it takes a while to get ready.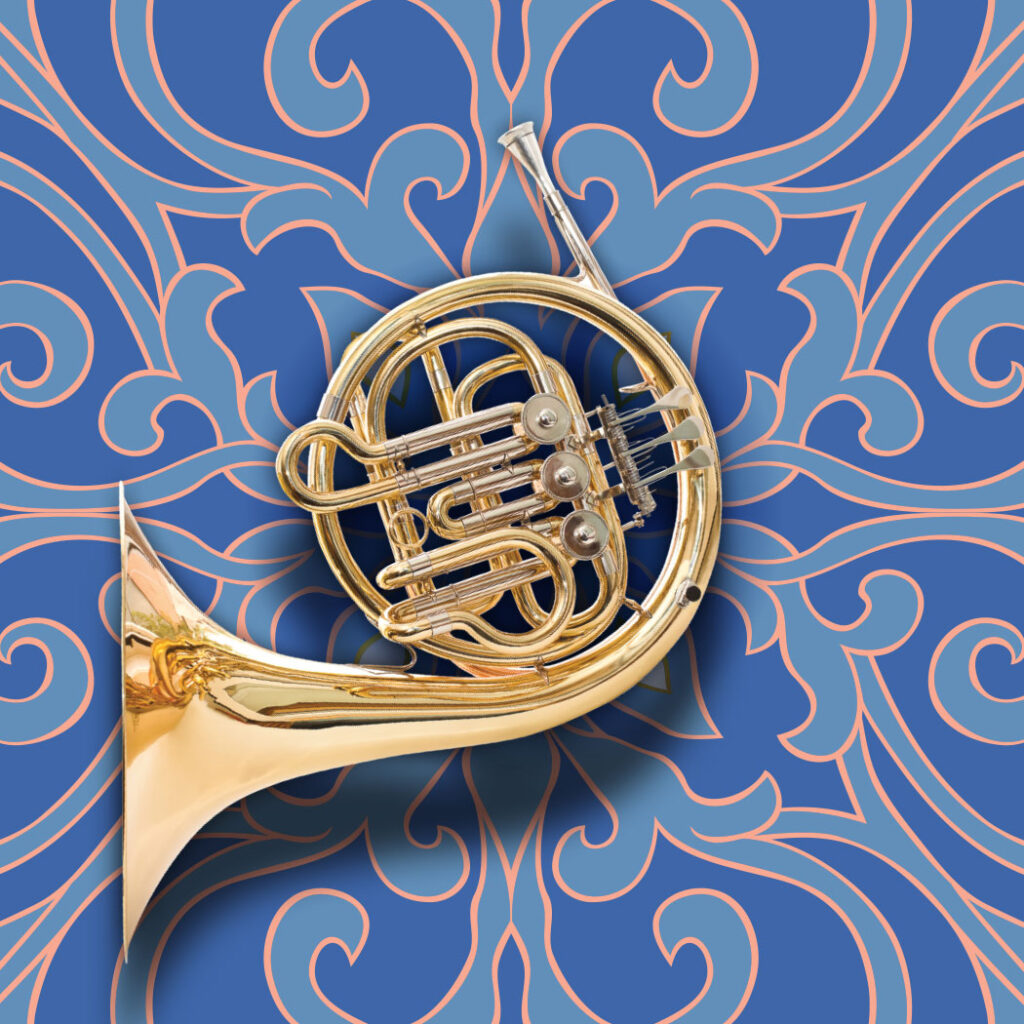 This "Beloved Baroque" concert is a chance to really horn in on some great listening! The program of delightful works includes Telemann's Concerto in D for Two Horns — a spotlight for MSO's Principal Horn Mimi Linehan and Second Horn Richard Hudson.
"I've never heard a piece by Telemann I didn't like," Linehan says. "His music is imbued with such grace and a wonderful sense of joy. Being the brilliant musician he was, he managed to write lovely horn parts that were not necessarily squeaky high." He accomplished that with longer horns, which have a lower range.
This music was written before the invention of valves to change notes on the horn. "All you had was a tube, with a mouthpiece on one end and a bell at the other end," Hudson says, "and you changed the note by the speed of the vibration of your lips. It was limiting in what notes you could produce."
The no-valves issue is significant, too, in that the only notes available on the natural horn are far apart in the lower range, and get closer together, the higher you go, Linehan adds. So, the composer had to write in the high range for horns to play melodic lines. Players Telemann wrote for also employed the hand horn technique, using the hand in various places in the bell, to play notes not available on the natural horn.
"What I was struck with, as I was working with this, was how much Telemann was able to put into this," Hudson says. Not really complicated. Completely enjoyable. Written for a very simple instrument, packed with punch and reminiscent of the key role of the horn back in that day: the call of the hunt. "Telemann is channeling that energy."
Telemann's use of horns, playing in pairs most of the time, emphasizes that hunting horn ancestry, Linehan notes, and adds harmonic interest.
"It's fun to work on, and I think people will really enjoy hearing it," Hudson says. "It's different from a lot of music we'll do in that concert."
The evening also includes Vivaldi's Concerto for Strings in G and Telemann's "Water Music" overture.
Keep an ear out for more fancy horn work in Zelenka's Capriccio No. 3 in F, the final work of the night. YouTube composer/transcriber @TheOneAndOnlyZeno1889 describes it as "a miniature orchestral masterpiece … (with the most insane horn parts in the universe)."
"Sounds like it's right up Mimi's alley," Hudson says.
"The capriccio is even more challenging than the concerto — some wiggly fast parts and some very high notes," she concedes. Its higher horn parts and addition of oboes result in a more brilliant-sounding orchestration. "Interestingly, the 'insane' part in the last movement is a single part, but it's included in both horn 1 and horn 2.
"I don't think Zelenka meant for it to be doubled, so there will be some 'sharing' going on!"