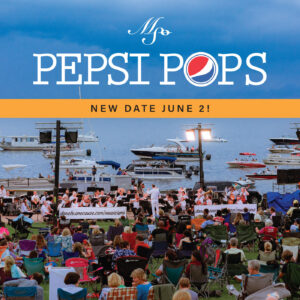 Pepsi Pops hallmark tradition to return June 2
Families, friends and fans gather on the Reservoir.
Jackson, Mississippi — The Mississippi Symphony Orchestra confirms June 2 as the new date for its annual Pepsi Pops concert after weather postponed the event May 12. The concert at 7:30 p.m. at Old Trace Park on the Barnett Reservoir caps the MSO season with the bang of fireworks and the twin pull of winning tunes and a beautiful setting.
Gates open at 5:30 p.m. Following pre-concert entertainment, Maestro Crafton Beck leads MSO in a celebration of pops music building to a climax of patriotic music and a fireworks show by Artisan Pyrotechnics of Wiggins for a sparkling finale. Tickets are $15 in advance and $20 at the gate for adults, and $5 for children and students. Free parking is available for the concert, with a VIP parking pass, $35, also an option. Tickets and VIP parking passes purchased for the original date will be honored June 2. Visit PepsiPops.com.
"We are so excited to celebrate the 42nd anniversary of Pepsi Pops!" said Shelley Brown Floyd, executive vice president of Brown Bottling Group, the event's major sponsor since 1981. "My grandfather, Ken Brown, was the mastermind of this great event. It was my favorite time of year as a child, setting the stage as the official start of summer, and now my children are the fourth generation to experience the wonder of Pepsi Pops!"
"You can make it exactly the kind of experience you want it to be," said MSO President and Executive Director Jenny Mann. Some people bring elaborate picnics, while others show up with a blanket and takeout. All are happy to soak up the sunset, stars, sailboats on the water and sweet sounds in the air.
"It's designed to have something everyone will recognize," Mann said of the lineup. This year's concert features selections from James Bond films, Raiders of the Lost Ark, Lord of the Rings, The Muppets, Evita and Harry Potter as well as such swoon-worthy faves as Killing Me Softly With His Song, Moon River and much more.
WLBT's Maggie Wade and Mississippi Today's Marshall Ramsey, both longtime local favorites, will emcee.
What: Pepsi Pops, MSO Pops Series concert
Who: Mississippi Symphony Orchestra
When: 7:30 p.m. Friday, June 2, 2023
Where: Old Trace Park on Barnett Reservoir, 422 Post Road, Ridgeland, MS 39157