Aaron Copland's Quiet City finds a favored spot with Linda Naef and Darcie Bishop, the MSO soloists who bring its exquisite melodies to listeners' ears and touch a chord or two of longing in the process. 
Mississippi Symphony Orchestra's third chamber concert, "Spring Delights," fills St. James' Episcopal Church March 11 with all the fresh anticipation, energetic beauty and renewing passion of the coming season, while sharing the whisper of something deeper. 
Naef's English horn and Bishop's trumpet are the solo voices in Copland's Quiet City, reaching across the solitude of a nighttime landscape to stir memories and connect. 
For Naef, the English horn — that unique, double-reeded solo instrument she describes as "the oboe on steroids"— has a sound that grabbed her ear as a 6th grader, and never let go. The daughter of singers, she played piano from age 5 and loved the symphony. She wanted to join the band at school, so her dad played LP selections featuring different instruments, to help her choose. When he played the English horn, "I just absolutely jumped out of my seat. For some reason, it just sang to me," she says. Naef plays both oboe and English horn with MSO. 
Copland's Quiet City was written as incidental music for a play by Irwin Shaw that never made it out of previews. The play centered on two Jewish brothers, musicians in 1939 New York City, as the Nazi movement spread in Germany. Each solo instrument voice represents one of the brothers. Naef's "character" in the play renounces his Jewishness, marries a rich socialite, and becomes a department store magnate; he is cruel to his workers and falls gradually into ruin. Wandering the city by night, he believes he hears his brother, Bishop's "character," who remained a musician, artist and social activist calling him back to his roots. 
"In the piece, both are in dialogue with each other.… It's plaintive, it's anguished, it's longing, it's hopeful," Naef says. "My character is trying to find his way, you might say, and his brother is calling him back," to his heritage, to his spiritual core, to his social responsibility to the human condition. 
"I think it resonates with people because it is so movingly deep and emotional for both of us," Naef says of the trumpet and English horn parts. "Both are full of Copland's beautiful emotionality and presence, the longing to feel deeply and to raise questions about life.… It's very tender, and very poignant." 
Bishop relishes the conversation between the instruments — the way it evokes a quiet city at night and triggers recollections of her own. "For me, it brings back memories of living in New York City in the '80s," she says, pulling her right back to the time she was studying at Juilliard, and walking back to her modest digs on the Upper West Side. Strolling down a darkened, hushed street in Manhattan, "You're listening, and you hear things coming from all directions." 
"It's a beautiful piece. Every trumpet player wants to play Quiet City." It's an opportunity to shine beyond fanfares at the back of the orchestra, and the high and loud playing that's often the expectation for her instrument. It's a chance to revel in lovely, expressive melodies and wonderful themes. "It evokes a lot of emotion," Bishop says. "I like to see if I can get the audience to feel a little something." 
The rest of the program has stories to tell, too: the rollicking folk fun of Grainger's Molly on the Shore; Wagner's Siegfried Idyll, a birthday present to his beloved wife after the birth of their son, and first played to awaken her on a Christmas morning; Puccini's Chrysanthemums, a touching tribute to a friend; plus the youthful vitality and melancholy in Schubert's Symphony No. 4, composed at age 19. 
But, when it comes down to it, all listeners really need to do is open their senses to the music. Like Bishop says of Quiet City, "I don't think the average listener knows the story, or really needs to know the story, to have a really great musical experience." 
Tickets for the "Spring Delights" chamber concert are $25 general admission and $5 for students kindergarten through college. Advance tickets may be purchased online at ww.msorchestra.com.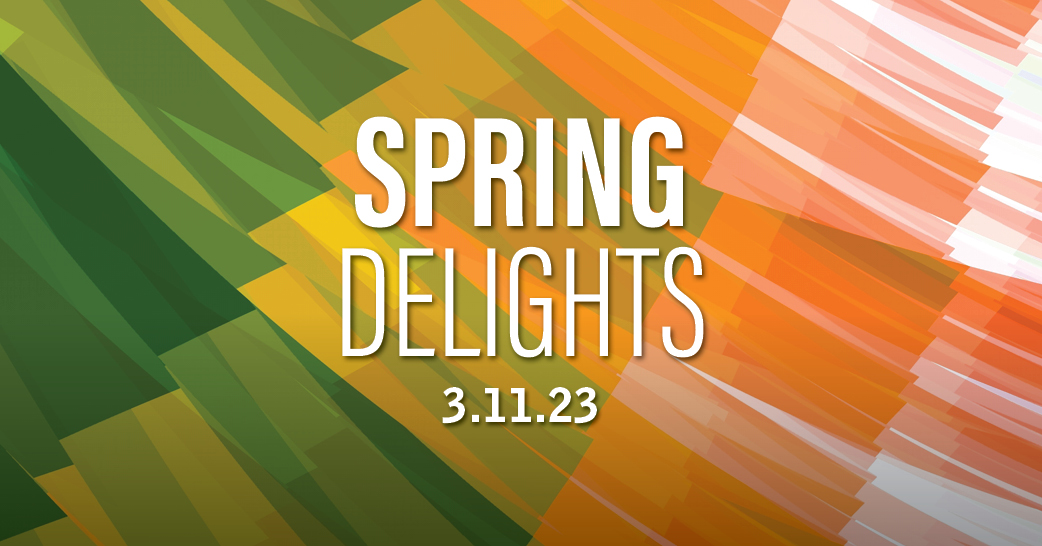 Spring Delights
3.11.23 / St. James' Episcopal Church / 7:30 p.m. / Jackson, MS / Tickets $25 
Concert program:
Aaron Copland: Quiet City
Darcie Bishop, trumpet
Linda Naef, English horn
Percy Grainger: Molly on the Shore
Richard Wagner: Siegfried Idyll
Giacomo Puccini: I Crisantemi (The Chrysanthemums)
Franz Schubert: Symphony No. 4 "Tragic"