When a symphony orchestra supplies the music, singer Shayna Steele straps in and relishes the ride.
"It is like being shot out of a cannon," she says with a happy laugh and abundant respect.
Steele, a one-time Biloxi girl who made it to Broadway and beyond, returns to Mississippi to soak up that spectacular vibe again, onstage in "Nothin' But the Blues" with the Mississippi Symphony Orchestra, 7:30 p.m. February 18 at Thalia Mara Hall. 
"I've performed on big stages all over the world, with really incredible musicians — small groups, big bands — but the first time I sang with an orchestra, it was pretty spectacular," she says. "It always feels that way when I walk on a stage and there is an orchestra behind me.
"It's really special. There's really nothing quite like it."
Steele's dad was in the U.S. Air Force, and the family moved to Biloxi when he was stationed at Keesler in 1985. Steele spent her junior and senior high school years on the Gulf Coast. Mississippi memories include plenty of singing in Biloxi, a lot of pageants, fun on the beach and living near the water. "I spent the first part of my life in Germany, so for it to be warm 365 days a year was a change," she says. The people were just as warm, and the slow, easy beach life was a charm. With family still there, she visits often.
"I'm so glad to be coming to Mississippi," she says. "Every time I come there to perform, everyone is so warm and welcoming and proud. I love that." With the knowing chuckle of someone raised amid such hospitality, she adds, "Somebody send me somewhere good to eat. I love Southern food!"
Her late father Bobby Steele, a beloved presence in the community as well as at home, taught her to sing, she says. He was part of the USAF's Tops in Blue program and worldwide talent contests. Starting at age 2, Shayna was going to talent competitions with him. "I was always on stage signing, during intermissions or at the end of competition, they would have us come up and sing a song.
"I just basically watched him and I would just do what he did." They would sing together and do theater together in Biloxi. "He was, like, a Gulf Coast acting star.… Everyone loved Mr. Bobby!"
Her show business career swings from Broadway to pop star background vocals (Rihanna, Kelly Clarkson, Bette Midler) and from movie soundtracks to solo studio albums. Two career highs stand out as her proudest.
"The monumental moment for me was getting my first Broadway show." Getting Rent three months after moving to New York from Mississippi gave her the confidence to keep at it. "What's the saying? If you can make it there, you can make it anywhere. That's how I felt when I booked Rent."
Writing her own material, putting it out there and touring as a solo artist is a big point of pride, too, as a woman completely in charge of her music. "It's been years and years of me working extremely hard, and I continue, to this day, to work very, very hard to make a living as an artist." Her fourth solo album, Gold Dust on Ropadope Records, is due out April 21.
Her approach in making and creating music and releasing records, is to ask herself: "Am I putting something out that I'm proud of? Yes. Is this something that I would buy myself? Yes." … Would I enjoy this if I listened to it? Would I enjoy it if I saw this?" With her albums, the measure of success is the response from listeners, "Your music changed my life" or "This song healed me." When her music reaches people's hearts, when it inspires someone, "That's all that I can hope for."
In "Nothin' But the Blues," "I enjoy singing all of it, because I'm covering material from artists that I've admired from afar," she says. "I feel like I'm standing on the shoulders of giants in blues music, such as Bessie Smith and Billie Holliday. I'm most proud to be singing music of women who were around during a time when women were oppressed, specifically women of color." And yet, these women managed to share bold and true stories of pain and loss, in songs that reached a wide-ranging audience in their day.
The concert also includes a blues tune Steele wrote years ago, Wear Me Down. "That is a really big moment for me. It just kind of melts all the history of what blues and jazz is, into music that I'm writing currently."
Plus, having that orchestral magic for her own music is its own kind of special. "I'm just like, 'Whoa!' I really do soak it up, and I don't take it for granted."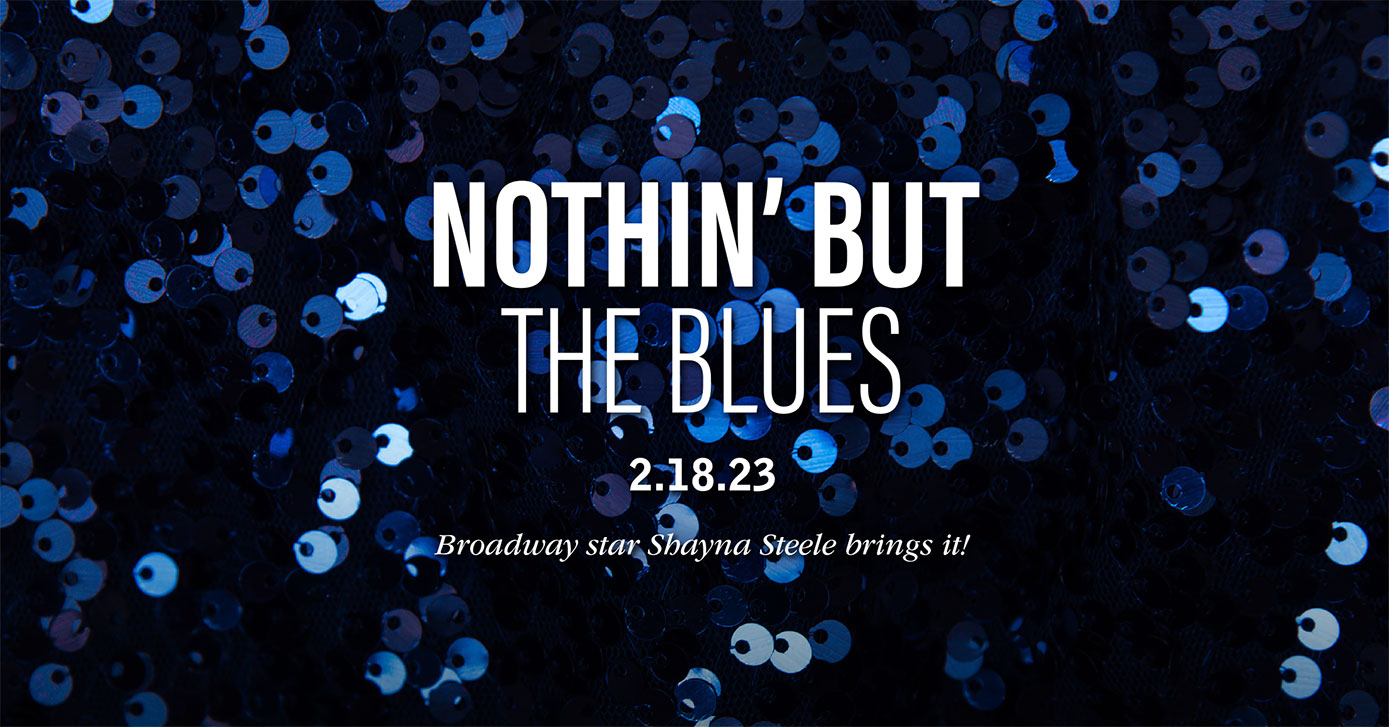 Nothin' But the Blues
2.18.23 / Thalia Mara Hall / 7:30 p.m. / Jackson, MS / Tickets $29 & up 
Concert sponsored by:
St. Dominic's Hospital
Concert program:
Bugle Call Blues
Down Hearted Blues
St. Louis Blues
Life Goes On
Blues Train
Tain't Nobody's Biz-ness If I Do
St. James Infirmary
Downtown Shuffle
Swing, Swing, Swing
Jelly Roll Jive
Backwater Blues
Bad Luck Blues
Tin Roof Blues
Wash Over Me
Nobody Knows You When You're Down and Out
Wear Me Down
Program is subject to change.