The viola steps out of its supporting role, and into the spotlight to shine at the Mississippi Symphony Orchestra's "Mozart by Candlelight" concert, and Ausra Jasineviciute couldn't be happier about it.
MSO principal violist since 2005, Jasineviciute, and MSO concertmaster Shellie Brown Kemp will be the featured soloists in one of the orchestra's most anticipated evenings of the season, 7:30 p.m. January 14, 2023.
The concert, aglow with hundreds of candles and nestled in the intimate space of Belhaven University Center for the Arts, charms with an all-Mozart program, including his famed and fantastic Marriage of Figaro overture and Haffner Symphony. At the program's heart is the composer's Sinfonia Concertante for Violin and Viola, with a musical conversation between the sister instruments that's as captivating as any ever written.
"There probably is no violist who has not played this piece," Jasineviciute says, noting the few classical compositions written for viola, and this is the only "big" one (with the orchestra) by Mozart. "It shows that Mozart loved the viola (he played viola in string quartets) and knew its best features well.
"The equality, partnership and beautiful sonority of both instruments, as well as the uniqueness of each movement — especially the second, with such emotional depth — resonates with me most in this incredible piece," Jasineviciute says.
Kemp keys into the sparkle of the first movement, the melancholy of the second and the joyous celebration of the third. She welcomes this melodic, lyrical turn for the viola from its more frequently duties of rhythm and harmony. "It's almost like the middle child of the string family, more often in the background. Which is unfortunate, because it has such a beautiful, rich and mellow tone. It's so beautiful to hear the melodies Mozart wrote, coming from it."
Jasineviciute came to the viola as a teenager in her native Lithuania. She'd left her parents' little town behind to enter a music high school in a larger city at age 15. "We can always find one person around us, who has the magic to help others," she says. "I quickly found the teacher who could help me grow strongly as a performer and musician.
"He taught violin and viola there, and he agreed to take me into his studio if I switched from violin to viola, since his violin class was already full." She had played violin for 10 years, but didn't have to think long and hard about the switch. "And, I've never regretted it!" 
She loved the viola's sound from day one. "That teacher had the greatest input in making me fall in love with the instrument, as well as being the best educator during all my learning years. I'm so thankful for everything he gave me."
Jasineviciute pays that gratitude forward. She's in her seventh year, teaching strings at Madison Station Elementary, where she coaches 100 young students in the love and mastery of music. She also teaches at Madison Middle School and helps her husband, Hristo Hristov (MSO assistant principal viola), at Madison Avenue Upper Elementary. He teaches at Mannsdale Lower and Upper Elementary schools, too. "Together, we have more than 200 students in Madison," she says. "They know us there as Mrs. H and Mr. H!"
She embraces the joy her students find in making music, "something very different from their regular classes," she says. "It makes their day each time.
"It also builds in them a strong confidence that they can do anything hard, if they just really go for it.… For us, their appreciation for making music — their energy, happiness and big smiles when they hear themselves playing their favorite tunes — is the perfect payoff for all our hard work."
As fellow violists, Jasineviciute and Hristov sit at the same stand within the orchestra. "We always laugh that we have our family evenings on the stage," she says. Their two sons, 10th grader Martin and 6th grader Victor, played violin and piano until their middle school years.
Hristov is Bulgarian-born, and people often ask why the native Europeans wound up in Jackson. "Our answer is always the same: We love our orchestra!" Jasineviciute says. While still graduate students in viola performance at Southeastern Louisiana University, they'd come play programs with MSO, and quickly found a home here. "This orchestra is like a family — helping, caring and supporting each other." 
They open their home to fellow musicians in a big potluck party at the end of each MSO season. It's became a tradition they look forward to reinstating as the pandemic recedes.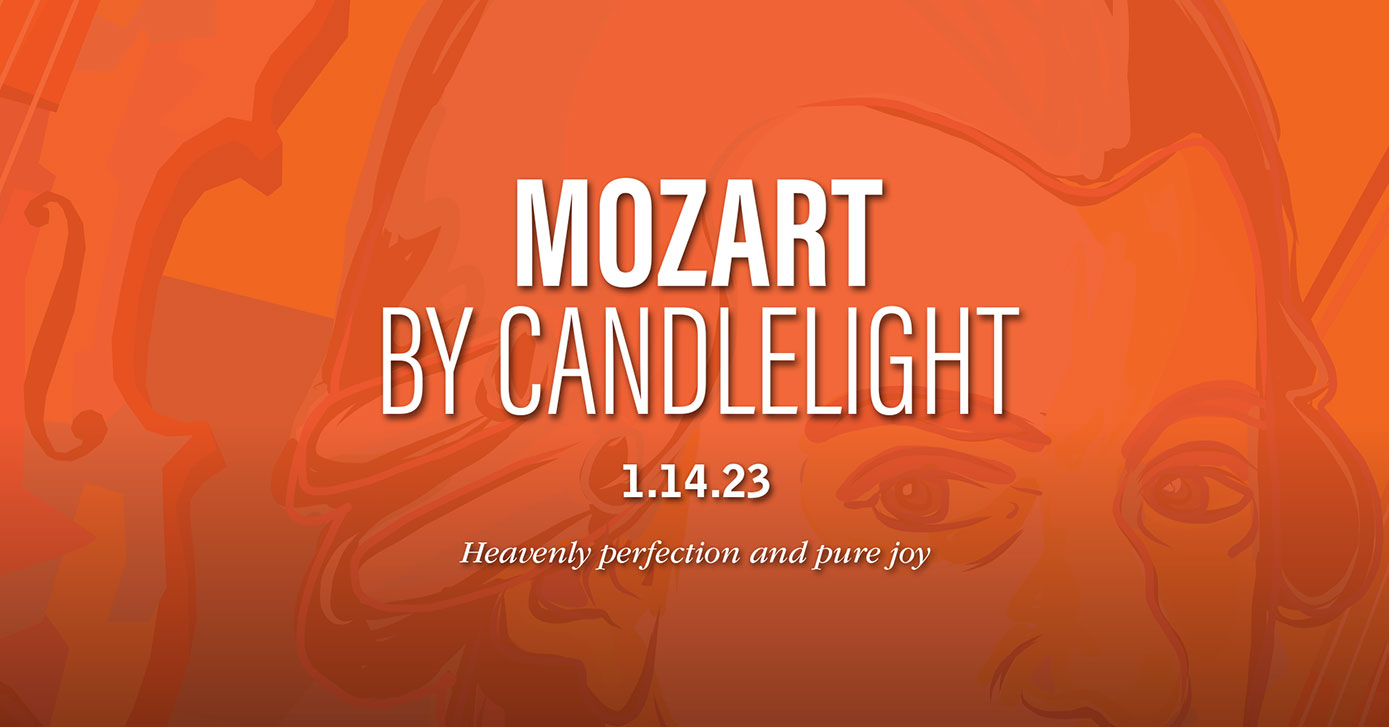 Mozart by Candlelight
1.14.23 / Belhaven University Center for the Arts / 7:30 pm / Jackson, MS / Tickets $25
Concert program:
Wolfgang Mozart: Overture to The Marriage of Figaro, K. 492
Wolfgang Mozart: Sinfonia Concertante for Violin and Viola, in Eb, K. 364
Shellie Brown Kemp, violin
Ausra Jasineviciute, viola
Wolfgang Mozart: Symphony No. 35, K. 385, in D "Haffner"