"Broadway Beyond Words" pumps up the volume for classic musicals, spotlighting the music at their core, and in turn, Mississippi Symphony Orchestra's fabulous players.
This first Pops concert of the season, October 22 at Thalia Mara Hall, celebrates Broadway in a whole new way, with symphonic portraits that place the music and the musicians in starring roles. This is a chance to hear the music of My Fair Lady (Frederick Loewe), West Side Story (Leonard Bernstein), Porgy and Bess (George Gershwin) and The Sound of Music (Richard Rodgers) in all their lush glory.
Melodies and songs from these selections have been arranged for a far bigger orchestra — a full 20th century symphony orchestra. "Of course, the original Broadway shows didn't have an orchestra that was one-fourth that size in the pit," says Maestro Crafton Beck.
Arranger Robert Russell Bennett, who was with composer Richard Rodgers when he created The Sound of Music and was the original orchestrator for the show, took the music from that show and did a 21-minute symphonic portrait of The Sound of Music, Beck said. He did the same for Frederick Loewe's music in My Fair Lady, for the Pittsburgh Symphony Orchestra, which released an album of the two in 1968. A good friend and sometime assistant of George Gershwin, Bennett had arranged an orchestral medley for Gershwin's Porgy and Bess in 1942, also at the behest of Pittsburgh Symphony Orchestra. Bennett described his musical philosophy this way: "The perfect arrangement is one that manages to be most 'becoming' to the melody at all points."
Composer Leonard Bernstein himself had a hand in putting together Symphonic Dances from West Side Story from his smash hit musical — done for a gala fundraising concert for the New York Philharmonic's pension fund.
The music itself, rather than the story line, is the driving force behind these arrangements, with a larger orchestra amplifying Broadway's best.
"We're talking about an orchestra that is not only much larger than the typical pit orchestra for a Broadway show," Beck says, "it's much larger, even, than the typical Broadway performances we've done here in the past," when guest vocalists were part of the presentation. The kind of musical power this concert packs would overpower singers and a chorus.
"In October, for example, we'll have four trumpets, three flutes (not just two), three oboes (not just the usual two), the addition of instruments like bass clarinet and contrabassoon, etc., etc.," Beck continued. 
"The result is an elegant and sweeping, truly symphonic experience of this music in a way that is rarely heard."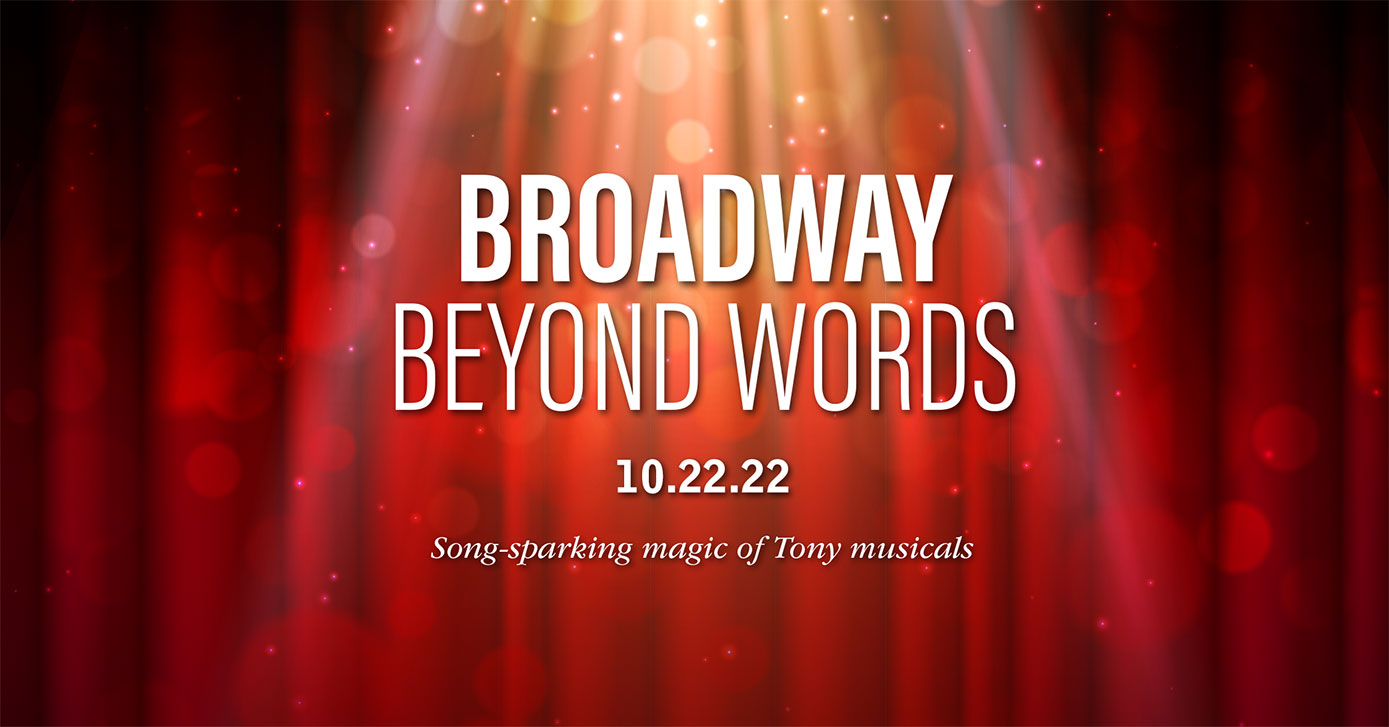 Broadway Beyond Words
10.22.22 / Thalia Mara Hall / 7:30 pm / Jackson, MS / Tickets $29 & up
Concert program:
Frederick Loewe, Symphonic Portrait on My Fair Lady
Leonard Bernstein, Symphonic Dances from West Side Story
George Gershwin, Porgy and Bess: A Symphonic Picture
Richard Rodgers, Symphonic Picture of The Sound of Music
Cash wine bar:
Available in lobby starting at 6:30 pm