A safe & free public event at Church of the Holy Trinity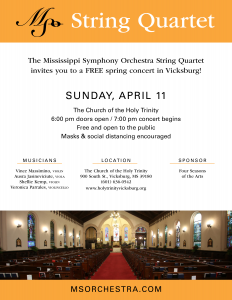 Jackson, Mississippi, April 7, 2021—On Sunday, April 11, 2021 at 7:00pm, the Mississippi Symphony Orchestra's String Quartet will hold a concert at The Church of the Holy Trinity, in lieu of the Chamber II concert typically held there, but wasn't this season due to the pandemic.  Concert is generously sponsored by Four Seasons of the Arts.
The program lineup begins with Mozart's String Quartet No. 9, in A, K. 169, followed by Boccherini's Minuet from String Quartet Op. 11, No. 5.  Next up is Torelli's Concerto Grosso, Op., 8, No. 5 in G major.  Closing the program with Mozart's Serenade No. 13, in G. K. 525 "Eine Kleine Nachtumusik".  The MSO string quartet is composed of orchestra musicians Vince Massimino, Concert Master; Ausra Jasineviciute, Shellie Kemp, and Veronica Parrales.
The cost is free and event is open to the public.  Parish Hall doors will open at 6:00pm. Masks and social distancing strongly encouraged.  For more information visit our website (msorchestra.com), or www.holytrinityvicksburg.org.
---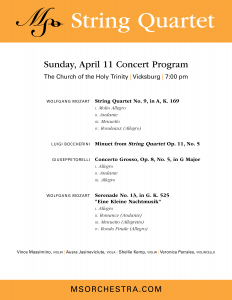 WHAT:
The Mississippi Symphony Orchestra String Quartet Spring Concert
WHO: 
Vince Massimino, Concertmaster, Violin
Ausra Jasineviciute, Viola
Shellie Kemp, Violin
Veronica Parrales, Violincello
WHEN:  
Sunday, April 11, 2021, 7:00pm
WHERE: 
The Church of the Holy Trinity
900 South St.
Vicksburg, MS 39180
---
This project is supported in part by funding from the Mississippi Arts Commission, a state agency, and in part, from the National Endowment for the Arts, a federal agency.
###