BRAVO-II:  FOUR SEASONS REIMAGINED | NOVEMBER 14 | THALIA MARA HALL | 7:30 PM | TICKETS $20
Reimagining a classic? It's like hitting the refresh button on an old favorite.
Violinist Stephen Redfield returns as the featured artist in the Mississippi Symphony Orchestra's Bravo II — Four Seasons Reimagined — Nov. 14, bringing Max Richter's recomposed Vivaldi to the Thalia Mara Hall stage.
Vivaldi's group of violin concertos, groundbreaking in its day (1725), is among classical music's most popular and, as such, has suffered a kind of familiarity fatigue. Richter's retake, crawling inside it and finding new routes to relish, has topped the classical charts in 22 countries.
"It's unquestionably Vivaldi, but Max Richter… puts a real fresh twist on it," says Maestro Crafton Beck, who's had this recomposition simmering on his programming back-burner since its 2012 release. The chance to devote a Bravo concert to it is a silver lining in the pandemic adjustments.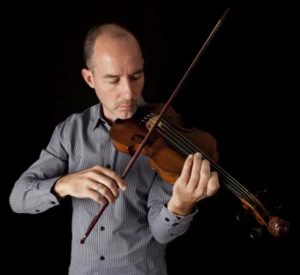 Redfield was smitten at first listen. "I love the piece," he says, and he brings that enthusiasm to the task. "Its relationship to the original intrigued me immediately."
Redfield is now in his 23rd year at the University of Southern Mississippi, where he is associate professor of violin. He grew up in Oregon and learned violin as part of the public schools program. He also drew inspiration from his siblings, who all played strings.
"We all came from a non-musical family, but we somehow took to music and we were well-supported by my parents. We were pretty close in age — all within five years. And there were five of us," the youngest two joining the clan as twins. "My mom was off her rocker," he adds, laughing fondly.
The siblings are all still in music, scattered across the country from Mississippi to Toronto and Oregon to Los Angeles.
Redfield describes an engaging fascination with Richter's recomposed Vivaldi. "There are some places where I play what Vivaldi wrote, but then there's shifting harmonies and textures surrounding what I play, and it absolutely changes my feeling.… It's almost like he took familiar words but translated them in a different language. "We know it. I've played it. And, to hear it just transformed is like opening up a world you never knew was there, that's so beautiful.
"He plays with rhythm," Redfield says of Richter, and a passage that may be predictable, driving, intense and exciting may suddenly skip a beat. A driving rhythm becomes a dance rhythm — more bouncy.
"There are a couple of things he does that are delightful, that feel like they breathe new life and new meaning and even a sort of humor, or an atmosphere of mystery to what we know and love and have heard and know so well. "It's so refreshing. It makes me chuckle at times. Other times, it makes my eyes go wide with wonder — it's just beautiful!"
In a cool bit of serendipity, Redfield played Vivaldi's "The Four Seasons" in his first appearance with MSO, back in 2004. "It's a funny little full circle."
---
Ticket Information:
Bravo-II: "Four Seasons Reimagined" tickets are $20 and will be emailed to you after purchase.
Renewed subscribers may use the RSVP form found here to reserve your seats.
Others may purchase single tickets via the website here.
Our office hours are limited right now. If you need to speak to a staff member, call 601-960-1565. We will return the call as soon as we can.
See concert protocols here.
Four Seasons Reimagined:
11.14.20 / Thalia Mara Hall / 7:30 pm / Jackson, MS / Tickets $20: buy here >
Concert program:
• Antonio Vivaldi, Sinfonia for Strings
• Antonio Vivaldi / Max Richter, The Four Seasons
  Stephen Redfield, violin
---