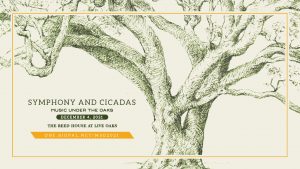 In her 2021 opinion essay for The New York Times titled, "The Cicadas Are Coming. It's Not an Invasion. It's a Miracle," contributing author Margaret Renkl writes, "The song of annual cicadas is the sound of summer itself."
Sadly, coupled with the buzz of cicadas, summers do not last forever; however, endings always lend themselves to beginnings—in this case, the new season for the Missississippi Symphony Orchestra. As summer wanes and the cicadas' songs wind down, MSO carries the torch into an exciting new season of music. Therefore, on Saturday, December 4, 2021, in a soirée under the trees at The Reed House at Live Oaks, we will raise a glass to music at Symphony and Cicadas, a celebration of the Mississippi Symphony Orchestra (moved from the original September date)!
We, along with the Jackson Symphony League, invite you to join us at the annual gala as we celebrate the myriad ways in which our state is enriched by music; we also invite you to be a corporate sponsor or patron host for the evening to show how much you value all the orchestra does for our communities. The incredible work of MSO is possible only because of its incredible supporters, so we ask for your thoughtful consideration of this opportunity to sustain and even expand its impact.
Please visit one.bidpal.net/mso2021 to sign up as a corporate sponsor or patron host by July 15, 2021, in order to receive an invitation to the private cocktail reception and to be listed on the event invitation with recognition; general event tickets will be available for purchase beginning July 26, 2021. We look forward to hearing from you and to seeing you at Symphony and Cicadas, the celebration of our seasons-long commitment to the miracle that is music.
Symphony & Cicadas Gala
Saturday, December 4, 2021
7:30pm ♦ The Reed House at Live Oaks
Music ♦ Cocktail dinner ♦ Silent Auction
– black tie optional –