Purchase Your Gala Tickets Today!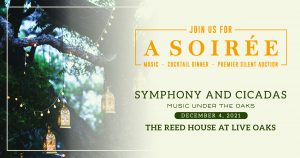 If you are in need of an outdoor party with good music and great people, then highlight Saturday, December 4, 2021, on your calendar (originally scheduled for September)!  We, along with the Jackson Symphony League, invite you to raise a glass with us at the Mississippi Symphony Orchestra's annual gala, Symphony and Cicadas, and come celebrate an exciting new season of music. Nestled against a backdrop of lakes and under a canopy of 250-year-old live oak trees, The Reed House at Live Oaks provides a fairytale setting for this celebration of music that will be a magical experience for your eyes, ears, and taste buds. What better—or more beautiful—way to simultaneously celebrate and support music in Mississippi?!
Click the LEARN MORE link below to purchase your event tickets, learn exciting details about the silent auction, or make a donation to MSO today. We look forward to celebrating with you!

Symphony & Cicadas Gala
Saturday, December 4, 2021
7:30pm ♦ The Reed House at Live Oaks
Music ♦ Cocktail dinner ♦ Silent Auction
– black tie optional –
» LEARN MORE «