FOR IMMEDIATE RELEASE: State Legislature Recognizes the Mississippi Symphony Orchestra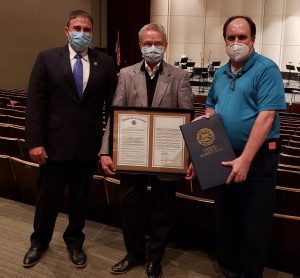 FROM LEFT: REP. TOM MILES (FOREST, MISS.); MICHAEL BEATTIE, PRESIDENT
AND EXECUTIVE DIRECTOR OF MSO; CHRIS ALLEN BAKER, SUPPORTER
AND SPOUSE OF ONE OF MSO'S CELLISTS.
In the winter of 2020, while MSO's 75th season was in full swing, Representative Tom Miles introduced a resolution to honor the Mississippi Symphony Orchestra. COVID-19 may have curtailed MSO's diamond anniversary celebration and the Mississippi legislative session but work on the resolution continued. This spring, the resolution was unanimously adopted by the House, then expedited by Senator Dean Kirby through to unanimous adoption by the Senate in June 2020.
 House Concurrent Resolution No. 66 commends MSO for the "impressive and inspiring legacy of musical contributions that it has provided to the people of the state of Mississippi" for over 75 years, "serving as one of the greatest cultural forces in Mississippi and evidences a vital partnership". The resolution also commends the orchestra's roster of music directors through the years, the contributions of staff and board, and the significant fundraising and leadership given to the orchestra for over 60 years by the Jackson Symphony League.
At the debut concert of our Bravo series, on October 10, 2020, MSO proudly shared the announcement with audience members.
Read full resolution here.
---
Mississippi Symphony Orchestra
(601) 960-1565, rroberts@msorchestra.com
201 E. Pascagoula St., Jackson, MS  39201
www.msorchestra.com
###
---