FOR IMMEDIATE RELEASE: MSO Celebrates Bravo Season Opener "Tour de Force" and Legislative Resolution
A special presentation leads an evening with Tchaikovsky, Grieg & Brahms
Jackson, Mississippi, October 2, 2020—On Saturday, October 10th at 7:30pm, the Mississippi Symphony Orchestra opens the Bravo series with a "Tour de Force" for strings, following a special announcement on the passing of House Concurrent Resolution No. 66 (HCR 66), on the occasion of MSO's 75th Diamond Anniversary.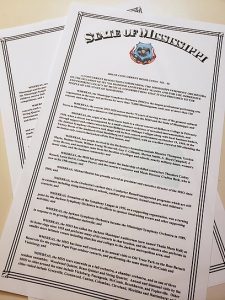 HCR 66 commends MSO for the "impressive and inspiring legacy of musical contributions that it has provided to the people of the state of Mississippi" for over 75 years, "serving as one of the greatest cultural forces in Mississippi and evidences a vital partnership". The resolution also commends the orchestra's roster of music directors through the years, the contributions of staff and board, and the significant fundraising and leadership given to the orchestra for over 60 years by the Jackson Symphony League.
What better evening to celebrate this tribute, than with three big pieces for strings and three genius composers. Serenade for Strings is one of Tchaikovsky's most soul-stirring works. Grieg's Holberg Suite of dances shimmers with delight, while Brahm's Hungarian Dance No. 5 is at once recognizable and compelling. Don't miss this uplifting tour de force for strings!
Tickets $20 and must be purchased online at www.msorchestra.com. Limited seating is socially distanced at Thalia Mara Hall. Mask and temperature check required for entry. No concessions, intermission, ticket sales or Will Call. Arrival instructions and protocol sent with e-tickets. For more info on the 2020-21 Season of Color visit our website, find us on Facebook @JacksonMSOrchestra or subscribe to our blog, MSOTempo!
---
WHAT:
Selby & Richard McRae Foundation Bravo I – Tour de Force concert
WHO:
Mississippi Symphony Orchestra with Crafton Beck, Conductor
WHEN:
Saturday, October 10, 2020, 7:30pm
WHERE:
Thalia Mara Hall, downtown Jackson
255 E Pascagoula St, Jackson, MS 39201
CONTACT:
Rachael Roberts, Director of Marketing & Box Office
rroberts@msorchestra.com
###
---