**Please note this date has been CHANGED from Sept. 11 to OCT. 30!**

Longtime MSO Principal trumpet, Darcie Bishop hits the happiest of notes for this popular concert's return to St. Andrew's Cathedral. The evening revels in the timeless appeal of masters Vivaldi, Geminiani & Bach, and features Bishop in an exuberant Torelli concerto. A concert nothing short of glorious! (General admission; no assigned seating. Doors open at 6:30p). Tickets $25; students/children (ages 4-18) $5
[Box office will reopen at venue 6:30p on evening of the concert]
*Face masks required throughout the performance. 
Antonio Vivaldi                    Concerto for Strings in G minor, R. 157
Allegro
Largo
Allegro
Jean-Phillipe Rameau         Suite from Dardanus
Entrée des guerriers
Tambourin
Air vif
Air gai on rondeau
Ritournelle gracieusement et un peu gai
Rondeau du sommeil
Gavotte gracieuse ("C'est la constance")
Rigaudons
INTERMISSION
Giuseppe Torelli                     Trumpet Concerto (Sinfonia), in D Major, G. 2
Allegro
Grave
Allegro
   Darcie Bishop, soloist
Francesco Geminiani             Concerto Grosso Op. 2, No. 2, in c minor
Johann Sebastian Bach         Orchestral Suite No. 1, in C, BWV 1066
Overture
Courante
Gavottes I and II
Forlane
Menuets I and II
Bourreé I and II
Passepied I and II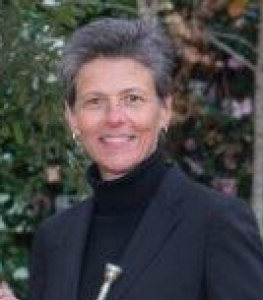 Darcie Bishop, Principal Trumpet
Darcie Bishop, has held the position of Principal Trumpet with the Mississippi Symphony since 1988.  A graduate of Interlochen Arts Academy, she holds the Ph.D. in Educational Leadership with an emphasis in Higher Education from The University of Mississippi, and Bachelor and Master of Music degrees in Trumpet Performance from The Juilliard School in New York.
Darcie has performed as a soloist with the Mississippi Symphony Orchestra, as well as the Gulf Coast Symphony Orchestra, among others.  Her solo performances have been met with standing ovations and favorable reviews.  SHe is an active chamber musician and enjoys performing with the Mississippi Symphony Chamber Orchestra, and MSO's Brass Quintet.  She can often be heard throughout the area performing chamber music for special events and has participated in music festivals including the Eastern Music Festival, Waterloo Music Festival and the New York Renaissance Festival.
As an educator and clinician, Darcie taught trumpeters, young and old, many of whom have had successful careers as performers and music educators.  Darcie studied with Mark Gould (Metropolitan Opera Orchestra), Richared Gianguilio (Dallas Sympony Orchestra), and Edward Carroll (International Soloist and Clinician), and has played in orchestras conducted by Zubin Mehta, Gunther Schuller, and Gerard Schwartz.
Dr. Bishop recently retired after 30 years as an Associate Professor of Music and interim Dean of the Graduate School at Jackson State University.
*FACE MASKS ARE REQUIRED FOR ATTENDANCE AT ST. ANDREW'S CATHEDRAL
♦ TICKETS MAILED UNTIL TUESDAY BEFORE CONCERT (unless otherwise requested). After 10AM Tuesday, they can be picked up at venue Will Call beginning 6:30p on evening of concert. ♦
⇒ Box office will reopen 6:30p at venue on evening of the concert ⇐ 
*Concert is general admission; no assigned seating. Doors open at 6:30pm.