POPS-II: MUSIC OF RICHTER & FFRENCH | MARCH 13 | THALIA MARA HALL | 7:30 PM | TICKETS $20
Fresh, bright and bracingly beautiful, MSO's March 13 Pops concert throws open the windows to let spring beam through.
Sterling works from contemporary composers at the top of their game — Max Richter, Alexis Ffrench and more — highlight a program that tugs at the soul, and blooms with yearning promise. 
A soothing balm to frayed nerves, a rich and resonant landscape, an irresistible melody dancing on air — it's all there. With sweeping appeal and emotional heft, these works peg their creators as our generation's masters, with music that is both right now and timeless. 
The "Music of Richter & Ffrench" concert at Thalia Mara Hall taps into a global move to open up brilliant new music to more mainstream audiences.
It's delightful. It's touching. It's deeply, exquisitely catchy — enough to score a spot on the personal playlist of Maestro Crafton, and doubtless so many others.
German-born British composer and pianist Max Richter is an international star, with a hand in everything from stage to screen, opera to ballet, film to TV. He thrives where contemporary classical and alternative popular music meet. This is the music that hooks you, pulling you along with the stories on screen, from HBO's dystopian "The Leftovers" to the sci-fi anthology series 'Black Mirror." Like the enduring scores of star film composer John Williams, the music stands tall on its own, too.
British composer and pianist Alexis Ffrench was a musical prodigy who at 7 was his Surrey church's lead organist. He grew up on Stevie Wonder, Bob Marley and Ella Fitzgerald, graduated from the Royal Academy of Music and is forging a career as a classical-soul pioneer. The chart-topper is hailed in the push to make classical music more diverse and unstuffy (it could learn from provocative genres like hip hop, he says). In a cool classical world phenom, he's one of the most streamed artists in the world.
The concert also includes works by composers Karl Jenkins, Philip Glass, John Lunn and Jay Ungar.
In keeping with a focus on the vanguard of key contemporary music, MSO's own younger generation is featured up front — Tyler Kemp on synthesizer and grand piano playing works of Ffrench, and violinist Shellie Kemp playing Richter compositions. Shellie and Tyler, married and in their 30s, are both part of New Jxn, a local group of younger musicians aiming to make contemporary classical music more informal, approachable and widespread.
Tyler, a recent convert to Ffrench's music, marvels at the way the composer combines his classical background with a more contemporary flavor. "His music seems to bring together the pop styles and the classical styles, but in a way that I haven't heard before. In fact, I'm very much excited to play it!"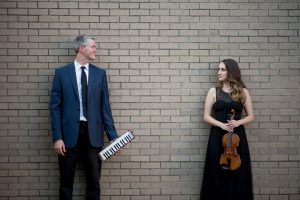 ---
Ticket Information: Tickets are $20 each and will be emailed to you after purchase.
Renewed subscribers may use the RSVP form found here to reserve your seats.
Others may purchase single tickets via the website here.
Office hours are limited right now. Please email Rachael (rroberts@msorchestra.com) with any questions. We will return the message as soon as we can.
See concert protocols here.
Music of Richter & Ffrench
3.13.21 / Thalia Mara Hall / 7:30pm / Jackson, MS / Tickets $20: buy online here 
Concert will feature music from:
• Downton Abbey
• Palladio
• The Leftovers
• The Illusionist
• Memoryhouse
Plus includes the beautiful and heartwarming Ashokan Farewell!
MSO Musicians:
• Tyler Kemp, piano
• Shellie Kemp, violin